ISH µPLC iSOC300P
The new micro- control of ISH
μPLC iSOC300P, Art.-Nro. 15001327

Plugin module for integration into your hardware :
Very compact form factor
85 x 55 mm incl. connectors
cost-efficient
flexible
easy to integrate
easy to program
easy to extend
immediately usable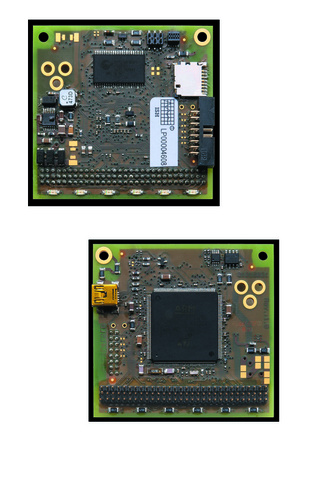 Plug-in module for integration into existing electronics:
CPU core Cortex M4 168 MHz
1 Mbyte FLASH as program memory
192 KByte SRAM integrated as variable memory
OS FreeRTOS
For high performance applications, extension is possible up to 1 Mbyte SRAM to operate the PLC program with the faster memory.
The following options are provided:
1 Mbyte SRAM extension
Real-time clock
temperature sensor
battery
SD card slot
Capacity:
100,000 logical operations (bool, byte, int, DInt) approximately 3.3 ms
100,000 real operations approximately 94.5 ms
Interface:
connector 3 x 30 with the following available signals:
Operating voltage 5VDC +-5%
temperature range: -40°C to 85°C
humidity: 5-90% rel, not condensing
10 analog inputs
2 analog outputs *
1 SPI interface, * an alternative to one of the two analog outputs
25 digital inputs or outputs, configurable via software
1 encoder interface (AB)
1 PWM generator
2 counter inputs
4 PWM inputs or ourputs
1 UART interface (TTL)
1 USB interface
1 CAN 2.0 Interface
1 Ethernet interface (OPTION)
5 Status LED outputs
1 Reset
Furthermore there are additional ports on the board provided to program the CPU via the integrated serial interface.
The programming of the PLC is possible by way of the serial interface , via USB as well as by an adapter via Ethernet. As a programming interface Multiprog or Multiprog Express is used.
The module is also usable for ATEX applications withour ethernet (group 1).
Downloads