SIC400
SIC400 Safety Integrated Core
the faster way to your safety compliant product

Modular hardware and software kit for your safety related development.

SIC400 overview:
Hardware modules (Safe CPU and Safe I/O boards available)

Hardware integration packages (HW design)

Software
- available as complete safe library with integration guide

Fieldbus Stacks FSoE-Slave and Master available

Integration packages for Fieldbus Stacks

Certified Testlibrary Cortex M4 available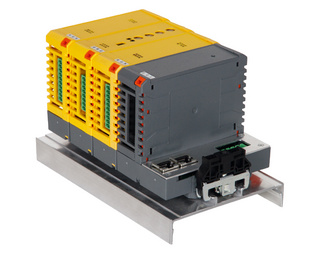 Hardware modules (with or without housing available)
SIC400 CPU module 2-channels, each with a Cortex M4 180 MHz, 1024 KByte Flash and 256KByte internal RAM, each extensibility with max. 2 separate I/O-moduls
SIC400 I/O module 8x 24VDC testable inputs, 4x24VDC testable outputs
SIC400 Fieldbus module EtherCAT® Slave or Profinet ® IO
SIC400 Power Supply Unit input voltage 24 VDC, output voltage 5VDC
Hardware Integration Packages (HW-Design)
SIC200 Hardware Integration package CPU and I/O design, consisting of circuit diagrams, HW specification documents, BOM, design calculations, FMEDA with fault injection specification, Requirements with Tracking Table
SIC210 Fieldbus design based on netX52 as a fieldbus-communication extension to the SIC200
SIC220 Power supply design evaluation platform free of charge (in conjunction with the purchase of the SIC200)
Software
SIC100 Modular Software, object-oriented concept, interfaces to user defined software, application part, HAL (Hardware Abstraction Layer). Input & output in sw and hw configurable – as safe or non-safe. 1/2-channel
SIC101 SW-extension for SIC100, Motion Module according to DIN EN 61800-5-2 as well as encoder analysis of SIN/COS and SSI/BISS (non Safe) types.
SIC110 Extension for the coupling of a netX52, Ethercat® and/or Profinet® communication (based on Hilscher-LOM), as reloadable firmware from the host process. Plus license from Hilscher for the use of the LOM per slave (non-recurring costs).
complete packages (HW modules, HW integration & SW)
SIC500 complete package, consisting of hardware SIC200, SIC210, SIC220 (was described above) as well as software SIC100, FSoE-Slave with integration of Testlibrary CORA for M4 and connection to netX52 (plus license for Hilscher LOM).
SIC501 complete package, like SIC500, but with FSoE-Master incl. integration package (plus license for Hilscher LOM)
Feldbus-Stacks
FSoE® Slave Stack - the intelligent safety solution based on EtherCAT(R).
Developed according requirements of IEC 61508 for use in applications up to SIL3. The stack works without an operating system and has no special requirements fo the development environment. Multiple I/O instances of target hardware can be managed by one stack.
pre-certified as compliant item by TÜV Rheinland
FSoE® Master Stack - the intelligent safety solution based on EtherCAT(R), pre-certified as compliant item by TÜV Rheinland
Integration package Fieldbus Stacks
Integration package FSoE-Slave for SIC100
Integrations package FSoE-Master with parameterization
Additional Software- Test library for Cortex M4
Processor test library CORA Software, with which large parts of the hardware test, required by IEC 61508, can be realized.
Certified for Cortex M0/0+, M3, M4 and Cortex A8 als Compliant Item by TÜV Rheinland
Company core focus:
·

Development & Services in the field of functional safety
·

Electronics development and manufacture
·

since 2000 development & services in the field of safety technology
Additional we offer training courses for a quick start-up into your project.
We also provide consultancy on pursuing specifications and integration.
As experts on the development of safety related electronic products according to DIN EN ISO 13849, DIN EN 62061 and IEC 61508 we are pleased to support you for all steps in the development of your product and we accompany you up to type test.